TAXI AT LANGKAWI ISLAND

... Taxi is the best option of getting around in the Langkawi.What we can do for you ..? Of course, you don't need to rush. If you would like to plan your own tour,we will be more than happy to offer services to ensure that everything goes as smoothly as possible.
We are here and we are ready for you, no matter what your ground transportation needs are;From the tourist to the local residents flying out on vacation or business or group and family



Call for service now - we sure you will happy with us ..



Mohd Fauzee Ibrahim

+6012-4899969

+6019-5199669

Megat Ahmad A RAhman

H/phone : +6019-4170949

Email : langkawitaxi@yahoo.com


We welcome the opportunity to provide you with the best service, as one of the top taxi service and premier rental services in Langkawi Island. We look forward to answering any of your questions...we car call Langkawi taxi service or Langkawi car rental ..we can guide you for special package .

When you arrive at our airport, or by ferry , you want to have a friend greet you, handle your luggage and whisk you off to your hotel. That's we! taxi service. Friendly and efficient service. You'll be riding in the air-conditioned car. Also, we of the few taxi-drivers in Langkawi Island who does not smoke.

You will experience;



| | |
| --- | --- |
| | Clean vehicle and comfortable trip |
| | Friendly driver with safe driving skill |
| | Free Langkawi Map |
| | Additional local information |
| | Authorised by LPKP Malaysia |
>>>>>>>>>>>>>>>>>>>>>>>>>>>>>>>>>>>>>>>>>>>>>>>>>>>>>>>>>>>>>>>>>>>>>>>>>>>>>>>>>>>>>>>>>>>>>>>
Round Island tour packaged services :
| | |
| --- | --- |
| Tour Price | RM140.00 |
| Persons | 1-4 persons |
| Duration | 4 hours |
| Extra hrs | RM30 every hour |

| | |
| --- | --- |
| Tour Price | RM160.00 |
| Persons | 5 - 7 persons |
| Duration | 4 hours |
| Extra hrs | RM40 every hour |

| | |
| --- | --- |
| Tour Price | RM200.00 |
| Persons | 8 - 10 persons |
| Duration | 4 hours |
| Extra hrs | RM50 every hour |




Tour destination location packaged :


Underwaterworld Langkawi , Langkawi Cable Car , Langkawi Wildlife Park , Langkawi Crocodile Farm , Mahsuri Tomb , Eagle Square , Langkawi Waterfall , Shopping at Kuah Town

NOTE :
But you can choose where a good more place you want to go . Experience Driver, Air-conditioned car/van, Unlimited Mileage.


This tour not include Andaman , Datai and Gunung Raya



If you need BUS for rental , we can provide for you .. just call or email us



>>>>>>>>>>>>>>>>>>>>>>>>>>>>>>>>>>>>>>>>>>>>>>>>>>>>>>>>>>>>>>>>>>>>>>>>>>>>>>>>>>>>>>>>>>>>>>>>>>>




More Extra Service



We can send you / group / family and wait you if want to go to Langkawi mangrove tour ...




Spread over an area of 100 sq km, the Kilim Nature Park features a beautiful mix of well-protected green mangrove forests, isolated white beaches and blue lagoons. As you cruise down the calm, winding river, you will observe the wonders of the park's marine ecosystem, its flora and fauna and the natural inhabitants such as the over-hanging 'Bogak Trees', Brown Eagles, Tree Crabs, Monitor Lizards and Macaques.

Also enjoy the scenic and spectacular views of unique limestone rock formations emerging from the floor of the mangrove swamp and seabed. These fascinating geological wonders have been given various names such as the Temple Of Borobodur, the Elephant Stone and the Hanging Gardens. Explore the Gua Kelawar (Bat Cave) and seeped in fabled tales of mysteries and romance.
Video -

Eagle feeding activities
...........Watch Brahminy Kite Eagle and White Belly Sea Eagle in action trying to outwit each other during the "Eagle Feeding" . Eagle-Feeding is one of the must-do things in Langkawi. It will be your best magical moment, ever! Where else on earth that you can cast your magic and summon the wild eagles to you?
>>>>>>>>>>>>>>>>>>>>>>>>>>>>>>>>>>>>>>>>>>>>>>>>>>>>>>>>>>>>>>>>>>>>>>>>>>>>>>>>>>>>>>>>>>>>>>>>>>>
Cruise Packages




We also provide a cruise package for anyone interested in. Our offers are very affordable and attractive. Through this package, you can see the natural beauty of Langkawi Island. You can also enjoy the beauty of the sprawling Andaman sea. Here are the prices for this package. Please contact us for more details.
RM280
RM370
RM450

1 - 4persons
8 hrs

5 - 6persons
8 hrs

7 - 10persons
8 hrs
Mohd Fauzee Ibrahim

+6012-4899969

+6019-5199669

Megat Ahmad A RAhman

H/phone : +6019-4170949
>>>>>>>>>>>>>>>>>>>>>>>>>>>>>>>>>>>>>>>>>>>>>>>>>>>>>>>>>>>>>>>>>>>>>>>>>>>>>>>>>>>>>>>>>>>>>>>>>>>

We can send you / group / family and wait you if want to go to Langkawi Island hopping...
Island hopping tour ;
Visit to 3 islands

:-
1
Pulau Dayang Bunting ( Lake of pregnant Maiden)
2
Pulau Beras Basah
3
Eagle Feeding near Pulau Singa Besar


Nestled amidst lush forested hill on an island south of Pulau Langkawi is

Tasik Dayang Bunting (Lake of the Pregnant Maiden)

, the largest lake in Langkawi. The outline of hills and rocky outcrops on one side of the lake resembles the shape of a pregnant maiden lying on her back. However, the name of both the island and lake is attributed to the legend of a lovely fairy princess who married an earthly prince. Her first child died shortly after birth. She was so sad and depressed that she buried the child in the crystal clear waters of the lake. Before she returned to her celestial abode, she blessed the waters so that any childless maiden who bathed in the lake would conceive thereafter.



Legend of Tasik Dayang Bunting

- The favorite bathing pool of a celestial princess named Mambang Sari was said to be Tasik Dayang Bunting (lake of the pregnant maiden). A prince, Mat Teja, fell madly in love with her and tricked her into marrying him. It did not take her long to reciprocate his love and so could not bear to return to her celestial home. Sadly, their child died from a mysterious illness at the age of seven days. Distraught, the grieving Mambang Sari left the child's body in the lake and returned to her heavenly abode. Today, some believe barren women who bathe in this lake will be endowed with a child. Many have claimed to be successful.



Beras Basah Island and Eagle feeding activities ( Near Singa Besar Island )





Pulau Beras Basah
Pristine, attractive, beautiful and peaceful are some of the adjectives people used to describe Pulau Beras Basah. Being one of the most well-known islands located at the west tip of Langkawi, this island will provide you a perfect getaway with its white sandy beach that is embraced by the clear blue sea. The lush green forest that surrounds the island adds a sense of tranquility, enabling you to relax yourself upon stepping on the island.

Pulau Beras Basah is white sandy beach suitable for swimming, sunbathing, picnic and relaxation. Sea sport activities is like parasailing and banana boat at your own expenses .



>>>>>>>>>>>>>>>>>>>>>>>>>>>>>>>>>>>>>>>>>>>>>>>>>>>>>>>>>>>>>>>>>>>>>>>>>>>>>>>>>>>>>>>>>>>>>>>>>>>




See Sunset at Langkawi Island




>>>>>>>>>>>>>>>>>>>>>>>>>>>>>>>>>>>>>>>>>>>>>>>>>>>>>>>>>>>>>>>>>>>>>>>>>>>>>>>>>>>>>>>>>>>>>>>>>>>>>>>
Going to Snorkeling and Diving - Swim with lots of fish at Langkawi Coral Island - Payar Island ..
Any trip to Langkawi would be incomplete without a visit to the Pulau Payar Marine Park. This little gem of an island is located about an hour's boat ride away from Langkawi and is a protected natural area. The waters are crystal-clear, and there are an abundance of colorful tropical fish and even many sharks and a few barracuda.
The Most Popular Snorkeling Tour in Langkawi-Located in the northern part of the Straits of Malacca, near Kuala Kedah and
thirty kilometers south of Pulau Langkawi. It is a very popular tourist destination. Little to the south of Langkawi,Pulau Payar is Malaysia's premier dive and snorkeling destination.

The coral reef offers a luscious mix of tropical fish,including Horse Eye Jack,Morray Eel,Clown Fish,Groupers and
many,many more...

A 45 minutes ferry ride with a high speed catamaran will take you to Payar Island Marine Park. On arrival drop of at the island where you can swim and snorkel at your leisure. Also explore the island before lunch. Watch the shark feeding, and Barracudas. Lunch and .snorkeling gear, life jackets are provided.

Tour Highlights


Shark Feeding, Snorkeling, Snorkel Gear inclusive, Lunch Provided, Full Day Tour, all inclusive.

A 45 minutes ferry ride with a high speed catamaran will take you to Payar Island Marine Park. On arrival drop of at the island where you can swim and snorkel at your leisure. Also explore the island before lunch. Watch the shark feeding, and Barracudas. Lunch and .snorkeling gear, life jackets are provided.

Snorkel platform & underwater observatory also explore coral from here, glass bottom boat. Buffet lunch, Shower facility.

Tour Highlights


Shark Feeding, Snorkeling, Snorkel Gear inclusive, Lunch Provided, Full Day Tour, Snorkel from Platform, Glass Bottom Boat, Underwater Observatory, all inclusiv

e

Drop at Beach
Drop at Reef platform and beach
Adult
Child
Adult
Child
Call us
Call us
Call us
Call us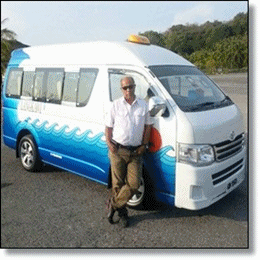 Mohd Fauzee

Megat Ahmad

019-5199669
Email : langkawitaxi@yahoo.com